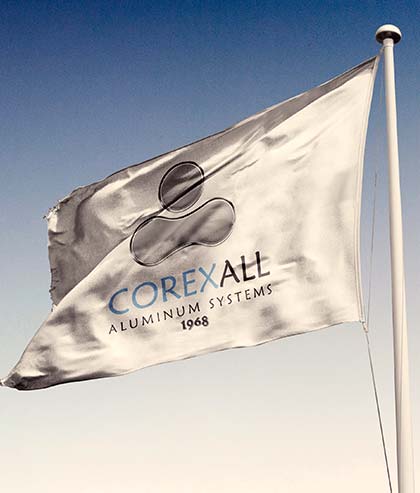 Corexall Aluminum Systems.
Our company began operations in the Istanbul Grand Bazaar in 1968 under the name Erdinçoğlu Teknik Profil Commandite Company. As a result of many years of industry experience, our company, which decided to restructure in 2009, continued operations in Ankara and Istanbul under the Alucorex brand. By 2015, our company had opened regional offices in Izmir and Samsun, and the company had relocated its headquarters to Istanbul's Ikitelli Organized Industrial Zone, as well as opening a regional representative office in Antalya that year. By making a decision to grow in 2018, our company relocated its headquarters to the Avcılar/Ambarlı region, and it now delivers its products to all parts of our country through five different selling points in Istanbul, Ankara, Antalya, Izmir, and Samsun provinces.

In addition, our company operates in the markets of Europe, America, Turkic republics, and he Middle East. Alucorex is one of the few companies in the sector with quality products that exceed Turkish standards and a service philosophy that prioritizes customer satisfaction above all else. Aside from standard manufacturing, we distinguish ourselves in the industry by producing customer-specific solutions. Because of this ability, we are able to provide alternative solutions for all types of systems involving the use of aluminum profiles. We primarily operate in the shower cabin, tent, furniture, cooling, railing, trailer profiles, and many other sectors in the production and design of aluminum profiles. Our company, which aims to expand its market share especially in Europe and America Sunday, with high quality aluminum profiles that do not have a scrap mixture, have ability to meet the profile requirements up to 8 kg in meters and 400 mm in length, thanks to billets which can be processed up to 9 inches, CAD/CAM systems with wire and sinking erosion, CNC lathe, conventional workbenches required for mold manufacturing, anodizing facility capable of coating from 5 microns to 25 microns in accordance with Qualanod norms, vertical and horizontal electrostatic paint shops and 3500 tons capacity extrusion press. Our company's products, in particular, make a difference in industries where large and heavy profile usage is intense.